By Patricia Nyhan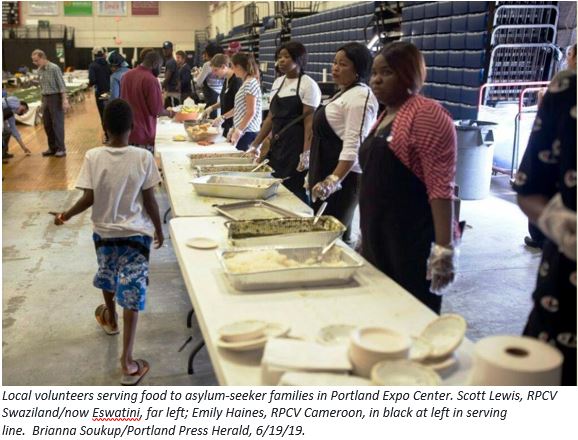 For a small city, Portland, Maine, has a big heart. When President Trump threatened to send immigrants to sanctuary cities in April, Portland mayor Ethan K. Strimling responded, "Bring them on." Not an official sanctuary city, Portland nevertheless has a longstanding reputation for welcoming refugees.
Watch this video of news coverage of the asylum-seekers at Portland Expo.
As the migrant situation at the U.S.-Mexico border worsened, asylum-seekers began arriving in Portland from the San Antonio area, where many had entered the U.S. In mid-June, a group of almost 300 Africans from Democratic Republic of Congo and Angola began arriving, overwhelming city services.
"We are, I think, in a very critical situation in this city," City Manager Jon Jennings told the Portland Press Herald on 6/11/19.
Mayor Ethan Strimling welcomed them. A donation campaign raised nearly $400,000 in less than a week. The city scrambled to place them in its sports arena as a temporary shelter. About 1,200 people in the city of 67,000 volunteered to help care for the migrants and were screened for service by United Way.
Among those who responded were members of the Maine Peace Corps Association, a group of 275 RPCVs spread throughout the state. MPCA has been actively involved, encouraging its membership to volunteer at the shelter, donate, or offer to interpret in French, Portuguese or Lingala.
Nicole Lewis (RPCV Senegal) and her husband Scott Lewis (RPCV Swaziland/now eSwatini) of MPCA are volunteering as French interpreters at the Expo sports arena, along with Emily Haines, RPCV/Cameroon.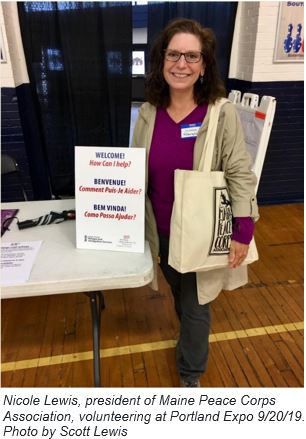 "It felt like a privilege to be part of the welcoming team and celebrating them," said Nicole Lewis, MPCA president. "It's 100% related to my Peace Corps experience. I feel instant affinity to Africans and African culture," she said, adding that she and her husband felt a debt of gratitude for how they had been warmly received when they served in Africa.
They also attended a City of Portland meeting about the situation with Maine Governor Janet Mills , Congresswoman Chellie Pingree (D) and representatives from Senators Susan Collins' (R) and Angus King's (I) office, businesses and nonprofit organizations. In a sea of some 200 attendees and the din of multiple standing ovations in favor of support measures, were two lone protesters wearing "Trump 2020" hats, delivering the message "No Sanctuary City."
Also in the crowd were some of the state's major employers, who increasingly rely on immigrants due to a labor shortage caused by Maine's aging population and young people moving out of state.
"Let us know when they are available (to work)," said one.
Why are so many African refugees sent to Maine, a poor state of only 1.3 million with the whitest population in America?
That welcoming reputation gained over four decades is one reason, with Catholic Charities' successful record of resettling refugees. Another is word of mouth: Some of the African asylum-seekers have mentioned that they heard on their travels that it was easier to get asylum in Maine, citing one organization's long-standing commitment to immigrants: Immigrant Legal Advocacy Project (ILAP) www.ilapmaine.org
Others have said that Border Patrol agents gave them a choice of destination, New York or Portland, which a Border Patrol agent denied. Still others hoped to join family members already in Portland.
Portland is mobilizing resources on the state and local levels. It is using its Community Support Fund, which provides rental payments to landlords and other assistance -- believed to be the only such municipally-funded program for noncitizens in the country. Neighboring communities are offering financial support, and officials are working to expand state General Assistance funds.
The Africans' arrival at the border has puzzled immigration authorities. Currently, 1,500 – 2,000 African migrants are reported to be there seeking asylum, according to the Portland Press Herald, 6/11/19. Typically arriving by plane to South America, they have endured several months of dangerous treks through jungle, dodging bandits and preyed on by smugglers, to arrive through Central America and Mexico to our border.
By the time they reach Portland, they are exhausted but hopeful. The Lewises report that the families seem well and happy, the children running around cheerfully in the arena. Although now the 200+ Africans sleep on cots in the arena, city officials are working hard to come up with housing for them.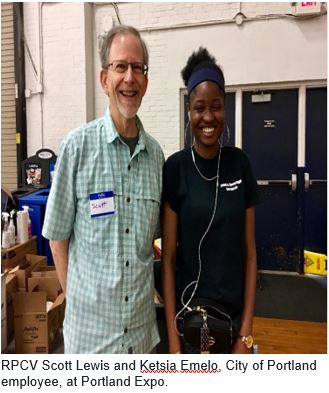 They will join a large community of Africans from other countries living in the area, occupying leadership positions in the city and through a refugee-led organization called Maine Immigrants' Rights Coalition. Jobs await them, once they gain legal asylum.
"I don't consider it a crisis, in the sense that it is going to be detrimental to our city," Mayor Strimling told the New York Times on 6/16/19. "We're not building walls. We're not trying to stop people. In Maine, and in Portland in particular, we've been built on the backs of immigrants for 200 years, and this is just the current wave that's arriving."
Follow this issue on MPCA (Maine Peace Corps Association) on Facebook: https://facebook.com
To donate funds to support this emergency situation in Portland, text the word EXPO to 91999 or go to this link: https://www.portlandmaine.gov/1554/Support-Asylum-Seekers
---